Read Time:
2 Minute, 33 Second
The city of Varanasi, also known as Kashi is a vibrant city full of hopes, prayers and customs. It is a city which is settled along the banks of the holy water of Ganga. It has about 88 different ghats and each ghat has a separate story related to it. This article will take you through the important ghats of this city and give little intriguing insights of hidden popular spots in the 'galis' (lanes) of Kashi.
The most important ghat is the Dashashwamedh ghat. It is famous for its Ganga aarti. Twice a day, 6am and 8pm, this ghat lights up. It looks like a festival. There is spirituality and togetherness as everyone performs the Ganga aarti with great devotion. Adjoining it is the Dr. Rajendra Prasad ghat that has the police station and two huge blue pillars for the water regulation system.
The Jantar Mantar of Varanasi which is right behind Dr. Rajendra Prasad ghat, is the only one which is made in white colour. Further, the Manikarnika ghat stands in complete contrast to the joyful Dashashwamedh ghat. Manikarnika ghat, also known as the 'burning ghat' is the cremation ground for the dead. There is a Manikarnika fire inside the temple which is always lit and it is the source for cremating the dead bodies.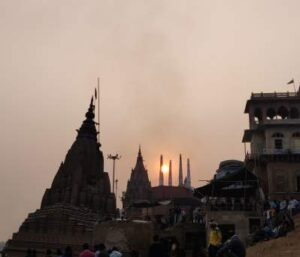 Assi ghat is the southern most ghat of the city. It is home to the most tourist activities. The food shops or stalls on this ghat are a must-try. The maggi of Assi ghat will tease your taste buds when paired with lemon tea. Lemon tea hawkers will be seen often along the ghats. A little before Chausatti ghat is a Lucy's cafe. It is named after the owner's dog and has a cosy and comfortable ambience with delicious food. In contrast to the depressing atmosphere at Manikarnika, there is a Blue lassi shop in the lanes of this ghat. It has a custom that whoever drinks lassi there provides the shop with a passport size picture which then adds to the old collection of the shop. All these pictures are stuck up on the walls and the ceiling of the shop as a memory.
Where weddings held on one ghat is in parallel with the cremation ceremony, where each ghat has a different ambience, where every person has a different story, where every architectural detail has a reason and where everything starts and ends at Mother Ganga, there is the city of Kashi. All in all Varanasi is a beautiful city with a lot of stories and hidden adventures. The experience of this city cannot be told, it needs to be felt.