Read Time:
4 Minute, 35 Second
By Fiona Mehta
Indian territories are swarmed by rainforests that are not only aesthetically attractive but also a significant supply of oxygen, from the Andaman Islands to the Western Ghats. Not to mention the variety of jobs available to those who look after the same. These thickets have been safeguarded and well-cared for for ages.
In order to experience the greatest of nature, take Instagram-worthy photos, and partake in exhilarating tourist activities, explore these rainforests! The majority of India's rainforests can be explored if you go during the dry season. Not to mention how much simpler the hiking trails became. Considering how nicely the typically muddy ground dries out, exploring the fascinating animals and vegetation is simple. The sweltering heat is the only issue at hand.
Andaman and Nicobar Islands – Tropical Evergreen Forest
The Andaman and Nicobar Islands are where you may find India's best example of a tropical evergreen forest. The abundance of vegetation and fauna in this area adds to its uniqueness. Rare plant and animal species are said to have migrated from Bangladesh, Myanmar, Thailand, and other adjacent nations to the Andaman Islands.
The Andaman Islands are thought to have the most diverse plant life in India, with around 2200 different species of plants thought to be present there. The average annual rainfall in these tropical rainforests is 2000 millimetres.
Best Time To Visit: November to February
Places To Visit: Havelock Island, Diglipur, and Baratang
Assam – Unspoiled Escapes
The Assam region in northeast India is home to some of India's most remote, dense, and untouched rain forests. Although Northern Assam has the most of the forests, Nagaland, Manipur, Mizoram, and Tripura also have some of them. Low-lying hills with an all-year-round lush forest cover and an average height of 900 metres define the Assam region's rainforests. The Indian jungle here is the most visited.
Generally speaking, the Assam region of Northeast India is known for its damp sal monsoon woods. Numerous species of wild monkeys, including Hoolock Gibbons, Pig-tailed Macaques, Stam-tailed Macaques, Slow Loris capped Langurs, and Assamese Macaques, can be seen in the area. This rainforest in Assam also has a significant population of wild elephants.
Best Time To Visit: October to April
Places To Visit: Kaziranga National Park, North Cachar Hills, and Dibrugarh
North Western Ghats Moist Deciduous Forests – Rich in Flora and Fauna
A section of moist deciduous forests can be found in the northern Western Ghats, predominantly in Maharashtra and Karnataka, and encompassing a total area of around 30,000 square kilometres. Beginning in southwest Maharashtra, the lush and dense forest cover spreads into South India's Karnataka and Kerala.
More than 1100 animal species, including more than 200 that are native to the Western Ghats, can be found there. This region is also rich in flora and wildlife. The Western Ghat forest region is renowned for housing Asia's greatest elephant population. However, a major concern in this area is the rapid urbanization of the forest land as according to the statistics, two-thirds of the original forest land has been cleared or deforested. This is one of the famous rainforests in India. 
Best Time To Visit: September to March
Places To Visit: Eravikulam National Park, Silent Valley National Park, Chandoli National Park, and Kudremukh National Park
South Western Ghats Moist Deciduous Forests – Species-rich Regions of Deccan 
The South Western Ghats Moist Deciduous Forests are found in Kerala and Tamil Nadu, whereas Maharashtra and Karnataka are known as the North Western Ghats. The southern country's entire region is separated into two groups and covered with luxuriant green vegetation. The South Ghats are renowned for being the Deccan peninsula's most endemic and species-rich regions. Large creatures like tigers, gaurs, and elephants live and wander freely in this is their native environment.
This deciduous forest's distinctive centrepiece is the Neelakurunji, which blooms once every twelve years and paints the freshly cut mountains blue. This is unquestionably pleasing to the eye. When the weather is right, this region receives between 250 and 800 cm of rainfall. Calophyllum austroindicum, Garcinia travancorica, Mesua ferrea, Gluta travancorica, Memecylon subramanii, and Diospyros barberi are among the numerous plant species found in this forest.
Best Time To Visit: October to March
Places To Visit: Kodaikanal, Valparai, Mattupetty, Lovedale, and Meghamalai
Brahmaputra Valley Semi-Evergreen Forests – Home to the Most Alluvial Soil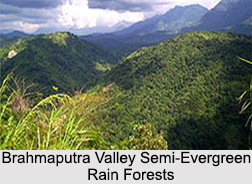 The pride of this nation's North Eastern section is the Brahmaputra Valley. Although certain areas of this valley are in West Bengal, Arunachal Pradesh, and Nagaland, Assam is where the majority of it is located. Since the valley has the most alluvial soil in the nation as well as semi-evergreen woods, it is regarded as one of India's most fertile locations. In addition to its rich vegetation, this Valley is renowned for its incredible flora and animals. This Indian rainforest has been well-preserved.
The Indo-Malayan area has an influence on the species in this valley. This forest is home to some wildlife species that are only found along the banks of the River Brahmaputra. This Valley is home to a diverse range of species, including Hoolock Gibbons, Stump-tailed Macaques, Golden langurs, and Hispid Hares. The residents in and around the area currently use the land of this forest as meadows and for agriculture.
Best Time To Visit: October to April
Places To Visit: Mehao Wildlife Sanctuary, Bornadi Wildlife Sanctuary, Kaziranga National Park, and Manas National Park