Read Time:
1 Minute, 19 Second
By Sanjana Chaturvedi
Markthal is a residential as well as a commercial building with a huge void to contain the market hall. Opened by Queen Maxima in October of 2014, this building is a marvel in itself. With residential, commercial and a huge interactive market hall it also house a 4 storey underground parking space. It is grey stone building with a horse-shoe shape. It has huge glass facades to close the voids on either side. The façade is made of smaller window panes that are held together by cable structures, making it the largest glass cable façade in all of Europe.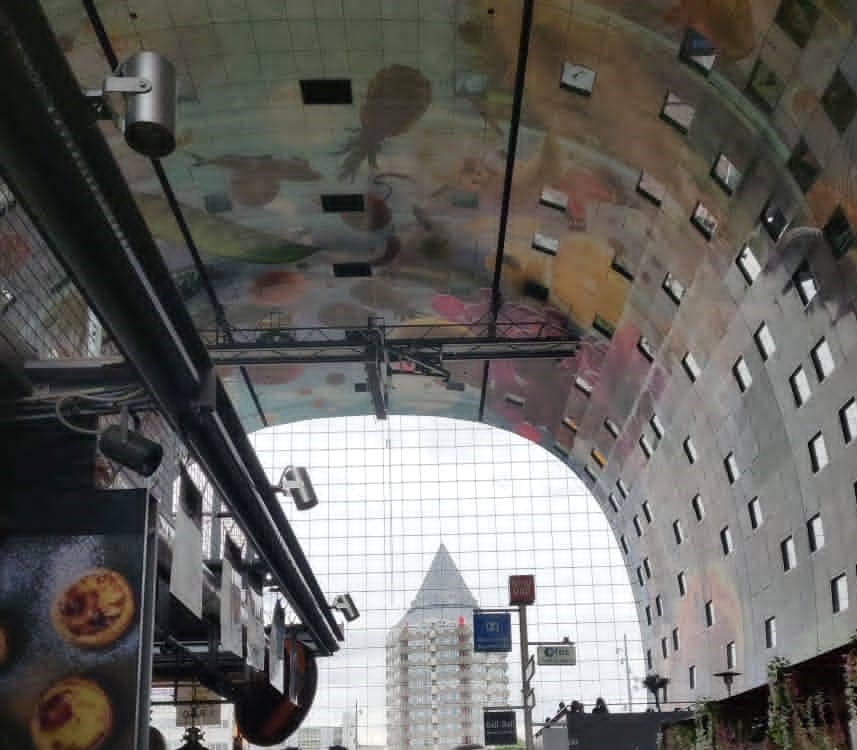 Inside the building there is a huge installation of an artwork on the ceiling and the walls around. It is colorful and adds life to the grey stone structure. This masterpiece by Arno Coenan and Iris Roskam is called Hoorn des Overvloeds, which is Horn of Plenty in dutch.
With delicacies and the famous dutch cheese, it also has fresh vegetable and fruit shops. With a gaming space towards the end, it has a human sized chess board keeping in mind, the interaction for the children as well as introduce an entertainment area for all. It has the idea of an open space market with stalls and temporary shops inside the space. The huge glass facades let in the light and contain the centrally air conditioned open market. Therefore, although enclosed, it gives one a comfortable experience of an open market and thus introduces the whole space with all its colors and varieties right from the entrance of the place.