Read Time:
1 Minute, 29 Second
By Prakhar Chaturvedi
Agra is the city which is the heart of Uttar Pradesh. It is a part of the golden quadrilateral-a 6 lane superhighway which makes the commute to this place super efficient for the visitors. Agra is also know for its sweet called petha. Moreover, the holy Yamuna River is also a place worth giving homage. This river was once called the "Blue River" because of its crystal clear water. This city is also a home to 168 year old college named "St. John". Here are some must-visit places in Agra which also happen to be UNESCO World Heritage Sites.
Taj Mahal, source: wikipedia.org
Known for its majestic, ravishing, irresistible white monument, to be precise one of the 7 wonders of the world-the Taj Mahal, is a place worth visiting.
In addition to Taj Mahal, Agra fort is a beautiful fort which is often misunderstood to be constructed by Shah Jahan. But instead it was constructed by Rajpoot Kings who existed before the Mughal era. Afterwards this fort was conquered by lodi kings under the rule of Akbar who renovated it using red sandstone.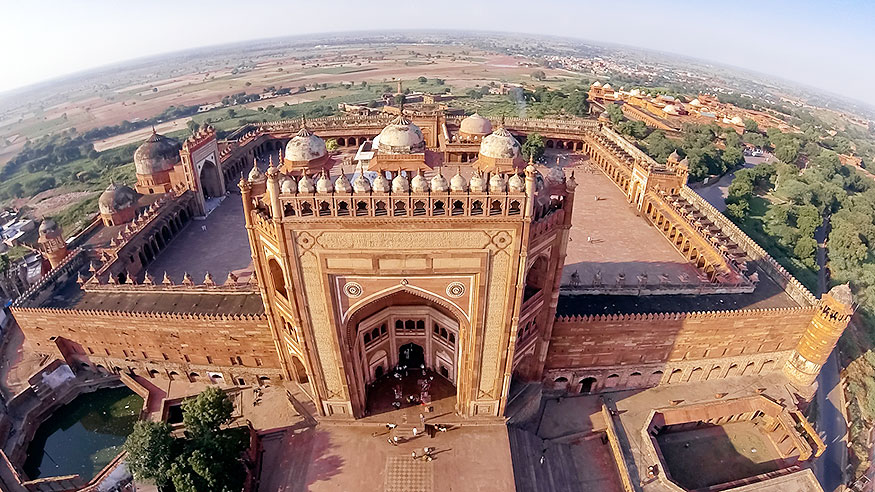 Fatehpur Sikri, source: news18.com
One more fascinating place to visit in agra is "Fatehpur Sikri", the city entirely build of red sandstone. Not at present but at some point in past, after all it was a favourite place of emperor Akbar. Various architectural provisions are evident in the fatehpur sikri fort which adds to the qualities of this place. Coming to conclusion, Agra is a beautiful place which is worth your visit, whenever you go to Agra along with your family be sure to visit places which are mentioned above.