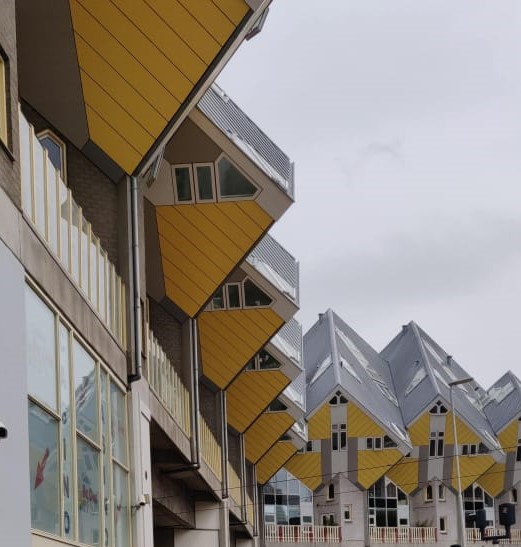 Read Time:
2 Minute, 8 Second
By Sanjana Chaturvedi
Designed by architect Piet Blom, this set of cubes is a must-see in Rotterdam. There is a set of 38 cube houses and 2 'super-cubes'. Moreover, it's not just a simple volumetric cube but a tilted one. This not only articulates and enhances the outer space but also plays with the volume of the internal space.
The entire space overpowers the visitor, making one feel a little lost. The entire space is intimidating and unique but at the same time it leaves the visitor awestruck and fascinated.
Located at a walking distance from the Blaak metro station, these are on Overblaak street near the famous Markthal market of Rotterdam. The entry fee of seeing the interiors is 3 euros and is open between 11am-5pm CET.
Each cube is at placed at an angle of 45 degrees and rests on a hexagonal support. The main concept of this space is to introduce a separate village right in the middle of a city. Each house represents a tree and when all of them come together, they represent a forest. This cluster stands in drastic contrast to the linear and orthogonal language of the city.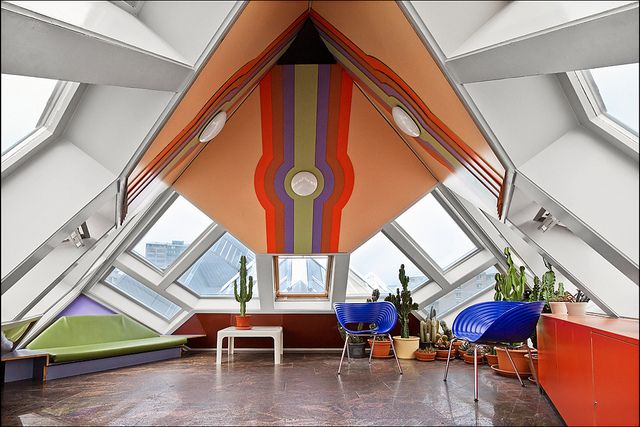 The house has 3 floors: the ground floor that has the entrance and a small seating, the first floor has the living room that includes display and an open kitchen, the second floor has 2 bedrooms and a bathroom and the last floor has a small garden, the vertex of the cube at the ceiling and a small seating space for pictures. The overall house covers roughly 100 sq. m. and due to the oblique angles of the walls, some of this space is not usable.
Although it is a fascinating experience, unfortunately it is not efficient for older people and people who cannot climb some closely packed flight of stairs. It has 3 floors and the staircases can get a bit tricky, also if you're tall, you'd want to watch out for your head.