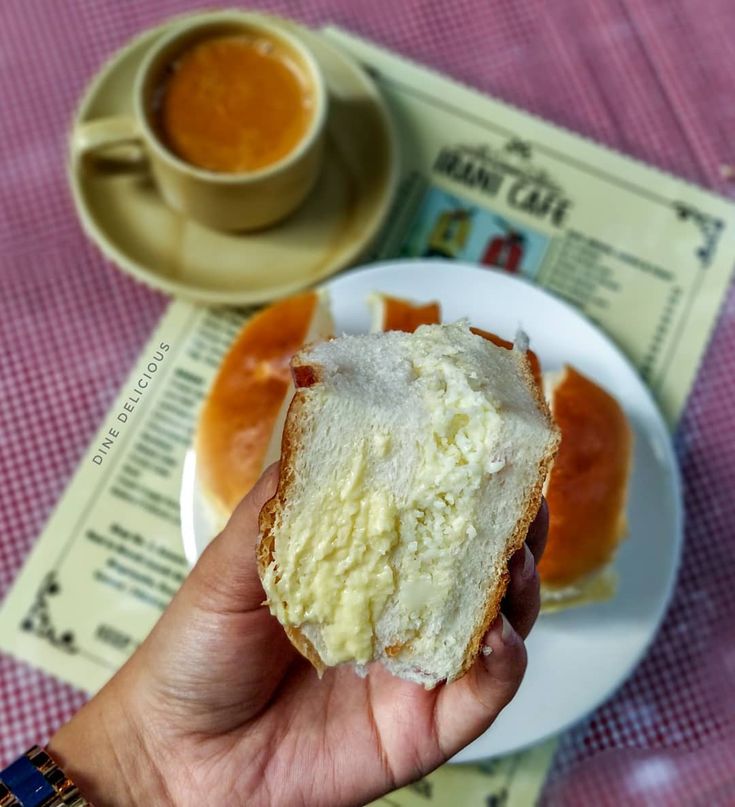 Read Time:
4 Minute, 7 Second
By Fiona Mehta
Since the beginning of time, Mumbai has been a blending pot of various cultures. It has also been a cosmopolitan area, making it a center of exclusivity and distinctiveness. As a result, the city now exudes a certain charm and allure. All of Mumbai's characteristics—hustling local trains, jam-packed but musical chawls, rising skyscrapers, or opulent neighbourhoods—seem to be ingrained in our common memory.
The city would be incomplete without its Irani cafes, though. These cafés, which have been there for more than a century, are a significant part of Mumbai's culture. In the 20th century, refugees from Zoroastrian Iran who were fleeing Islamic persecution founded them in British India. There are many Irani cafés in Mumbai, and they are well-known for serving Bun Maska and Irani Chai. Even though they are fewer in number today, these Irani cafes nonetheless contribute to the character of Mumbai.
Yazdani Restaurant & Bakery, Fort, Mumbai –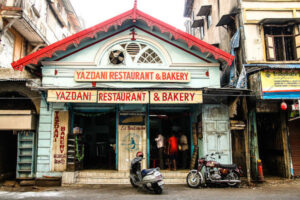 One of the most famous Iranian hangouts in the city, Yazdani, draws visitors from all walks of life. Along with the typical population, there are the posh males in ties and suits. You are immediately transported back in time as soon as you step foot in Yazdani by a powerful sense of nostalgia. A Yazdani family created it in 1953, and it has endured for three generations.
Ask any local which Irani cafe in Mumbai sells the best bun maska (hot toasted buns slathered in cold butter) and they'll surely mention Yazdani bakery. 
Must Haves: Khari Biscuits, Shrewsbury Cookies, Ginger Biscuits and Apple Cinnamon Pie
Merwan and Co., Grant Road, Mumbai –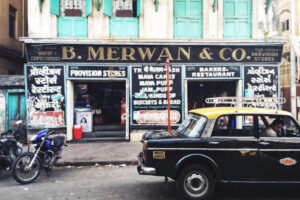 B Merwan & Co., which initially opened its doors in 1914, is a true institution in Mumbai with a following of devoted customers that spans more than a century. Make it here if you're only going to visit one Irani cafe in Mumbai.
Since its opening in 1914, this traditional Parsi café has been enticing customers with its cakes, buns, and biscuits. They rarely keep their freshly baked Mawa Cakes past midday, despite how good they are. For those seeking a taste of ancient Bombay combined with great cuisine, this Irani café is a joy. If you want a dose of caffeine, their chai goes great with their baked goods and is worth a try.
Must Haves: Mawa Cake, Mawa Samosa and Bun Maska

Britannia and Co., Fort, Mumbai –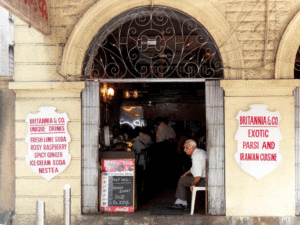 This Irani cafe in Mumbai, which lags behind B Merwan a little bit, first opened its doors in 1923 and has undergone very little change in that time. You can anticipate high ceilings, swaying chandeliers, and waitstaff wearing shirts and bow ties.
Don't be put off by Britannia and Company's worn-out appearance. Sitting and eating in Britannia's has a lovely, almost antique, rustic quality. The third generation of the Kohinoor family is now in charge of the cafe, which Roshan Kohinoor founded in the years before India gained its independence. The famed Berry Pulav's extreme popularity is due to this location. The recipe's creator is Bachan Kohinoor, the husband of Boman Kohinoor, who received the family company from his father.
Must Haves: Berry Pulav, Caramel Custard, Fish Patra and Mutton Pattice
Kyani & Co., Marine Lines, Mumbai – 
Kyani, one of the first Iranian cafés in Marine Lines, is today surrounded by South Mumbai's expanding infrastructure. The cafe is renowned for its confections and wine cake. The second generation of Shokriyes is currently in charge of Kyani, which has been in operation for around 112 years.
The father, Aflatoon Shokriye, founded the company from scratch after arriving in India in 1948 at the age of 18. According to the Shokriyes, they have worked with some of the biggest names in the arts and film. This bakery, which dates back to 1904, still has the exact same furnishings as when it first opened, and it is said that freedom fighters have stayed there and planned their independence campaigns on its wooden boards. This bakery has a rustic look and takes pride in its minimalism and affordability.
Must Haves: Bun Maskas, Irani Chai, Keema Pav, Parsi Custard and Chicken Cheese Bhurji
Sassanian Boulangerie, Marine Lines, Mumbai – 
Sassanian Boulangerie, which is situated in Marine Lines, serves as a sombre reflection of bygone eras. This cafe features Bun Maska, Chai, and a cheery bespectacled man behind the counter—everything that an Iranian cafe would be described as in a dictionary. Since it opened in 1913, Sassanian has been attracting pre-5 a.m. lines around the block for its brun pav (crunchy bread rolls) and Irani chai.
Rustam Kaikushru Yezdabadi, who immigrated from Yezd, Iran to India, founded this Irani cafe in 1913. He began by selling straightforward items like tea, cakes, and biscuits before expanding into a department store. But they ceased selling groceries in 1960 and turned into a full-fledged café.
Must Haves: Lagan Nu Custard, Dhansak, Mawa Cake and Bun Maskas