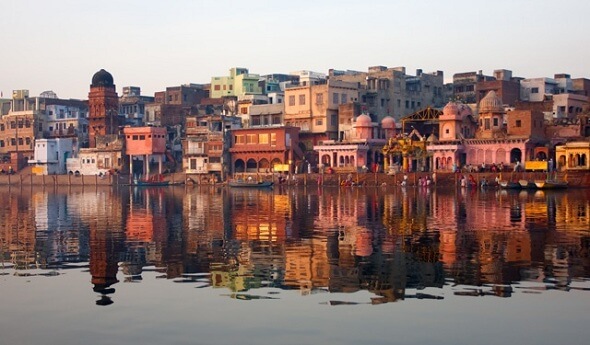 Read Time:
1 Minute, 28 Second
By Prakhar Chaturvedi
A pious religious city located in the populous state of Uttar Pradesh in between the capital city of Delhi and the ancient Mughal empire capital, Agra. This sacred town is for a very long time associated with lord Krishna. Beginning from it being the birthplace of lord Krishna which in present time is acknowledged as 'Krishna Janm Bhoomi' to various stories of lord Krishna's childhood. The town is also considered to be one of the holiest of the dipping places present on the banks of river Yamuna constituting 25 ghats or banks among which 'Vishram Ghat' is considered to be the holiest. Besides takes of lord Krishna there are many more interesting things associated with the pious town of Mathura. Mathura is one of the 'Sapt Puris' i.e. one of the seven places considered to be holi by the Hindus. Mathura is also embellished by magnificent temples of lord Krishna. There are various places in Mathura which are worth your visit and provide you opportunities to indulge in, some of them being-
1. Kusum Sarovar- dip in holy waters.

Kusum Sarovar. Source: brajdarshan.in
2. Kesi ghat- flooded with Yamuna's debris, beautiful place to indulge in photography.
Kesi ghat. Source: brajdarshan.in
3. Bhuteshwar temple- an abode of lord Shiva.
Bhuteshwar temple. Source: mathuratourism.in
4. Kans quila- admiring the architecture.
Kans Quila. Source: mathuraonline.in
Apart from these places strange yet intriguing rituals by the locals also make this town to be a strong compete give on your tour list. Various practices such as 'Lath Maar Holi', 'Govardhan Pooja', and 'Kans Mela', are the customary festivals that you should definitely become a part of once in your lifetime and pay an exhilarating tribute of mother Yamuna and Lord Krishna himself.