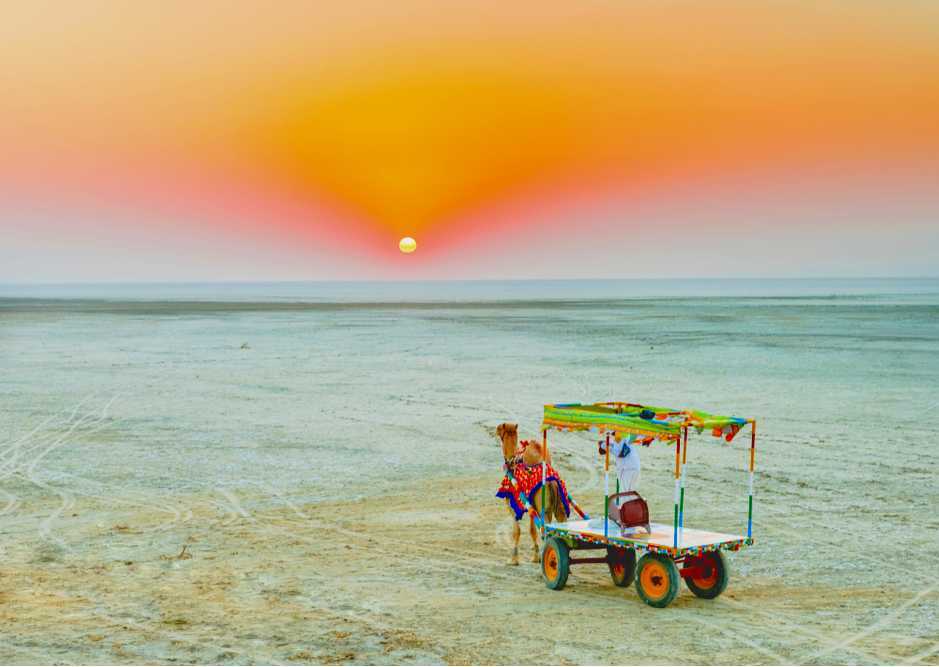 Read Time:
3 Minute, 1 Second
By Fiona Mehta
Kutch is the largest district of Gujarat wherein they have distinct language, culture and customs. This is what makes it a paradise for cultural tourists worldwide.
Kutch is well-known for its handicrafts, hills, white deserts, stunning virgin beaches, different forts, and above all, Dholaveera, one of the five major Harappan sites and one of the most well-known Indus Valley Civilization archaeological sites in India.
Rann of Kutch –
The Great Rann of Kutch, an arid region to the north of the Tropic of Cancer, is the main attraction for most visitors to Kutch, aside from the region's handicrafts. Salt desert makes up a large portion of it. Sunset is exceptionally enchanting, as is a full moon night spent under the stars. Even more amazing, the salt is submerged below in India's primary monsoon season.
The magnificent Rann Utsav celebration takes place in Kutch, Gujarat, India. It is a celebration of music, dance, the unspoiled beauty of White Rann, where you can live like a king or queen in a tent, and much more. Every traveller's dream must be to go on Full Moon Day. The dazzling beauty of Kutch Rann Utsav creates the magical moments of this festival, which feels like heaven on earth during festival time. The event offers a variety of activities, such as golf cart, ATV, camel cart excursions, paramotoring, meditation, yoga, and enjoying Gujarati culture.
UNESCO Heritage Sites –
The most well-known heritage site in Kutch is Dholavira, a Harappan-era archaeological site in Gujarat's Kutch region. Dholavira is the first Indus Valley Civilization monument in India to be listed on the coveted UNESCO list of world heritage sites.
Surkotada, an archaeological site in the Indian state of Gujarat, is another historical site. The Indus Valley Civilization includes it. The small village of Surkotada is encircled by a stone defensive wall. In 1964, Surkotada was first discovered.
Local Villages –
Due to the brilliantly coloured dyes and the exquisite craftsmanship, a visit to a typical Saurashtra village and an understanding of the art of hand loom weaving and dyeing techniques might be alluring. You may get a close-up look at the age-old craft of pottery.
Intricate crafts like embroidery, applique work on bed sheets, and pillow covers are very well known in Kutch. Tourists are drawn to the region for its ever-familiar Bandhani (tie and die) fabrics, enamelled silverware, and other handicrafts. You can shop for Patola Silk Sarees, Bandhanis, Ghagra-cholis, and wedding attire at the Wild Ass Wildlife Sanctuary. Interesting wall hangings, blankets with embroidery, infant garments, toys made of cloth, shoes with embroidery, lacquer furniture, and curiosities are also available.
Royal Chattardis –
The cenotaphs or royal chattris of Bhuj are also referred to as royal Chhatardis. They are essentially memorials honouring the lives of the Rann's warrior Rajput kings. These Chattris contained a wealth of information on the Maharao clan's way of life. Visitors and history buffs go to these monuments to relive the illustrious past that surrounds them.
Due to the earthquake in 2001, several of the monuments are in ruins, however Lakhpatji, Raydhanji II, and Desarji are still largely intact. The chhatri of Rao Lakha is the biggest and most notable of these. Its polygonal shape, balconies, and blue dome with jewelled work, which is a strong influence of Turkish architecture, were all designed by Ram Singh Malam. It has two entrances and two galleries. According to the stone carvings of his chhatri, 15 of his wives died on his cremation pyre. Additionally, Bhuj Chattardi has a little neighbouring lake to the city's well-known Hamirsar Lake.