Read Time:
1 Minute, 47 Second
By Asmi Chaturvedi
Nal Sarovar- Literally translating to "Tap Lake" is an alluring bird sanctuary located 65km to the west of Ahmedabad near Sanand village, Gujarat. Scientific evidence suggests that this globally significant freshwater lake was once a part of the sea channel that connected the gulfs of Kutch and Khambat which gradually became a closed basin. Due to the majestic size measuring 120 sq km and exuberance of over 230 bird species and rich flora including more than 50 species of algae and 70 types of flowering plants, Nal Sarovar has been proposed as a wetland of international importance under the Convention of Wetlands.
What differentiates Nal Sarovar from other important bird areas is the exceptional variety of migratory creatures like wild ass, black bugs, lush pink flamingos, rosy pelicans, white stork, brahminy ducks, geese and herons. It is looked upon as the best one-day excursion for families, photographers and especially nature and bird lovers.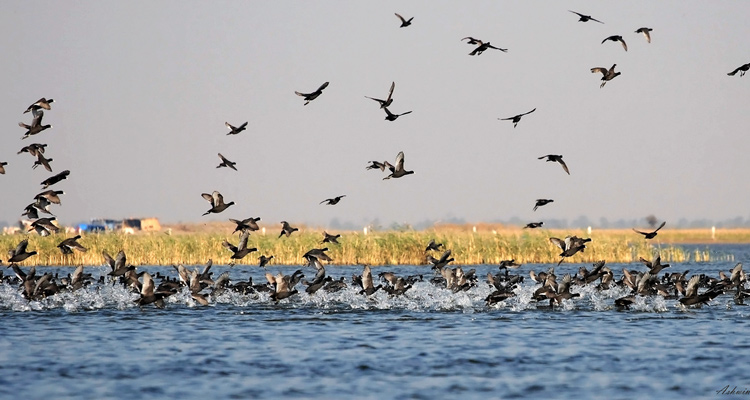 The best time to visit this magical bundle of nature is between 6:00 am-7:00 pm around late February and March or between October and February as the site experiences abundance of exotic and endangered birds. It is very easy to reach the destination via means of road, railway or air as its very well connected with the city. For the same reason accommodation is also very simply available. One can either stay in government offered tents, the surrounding hotels or in Ahmedabad. After arriving at the lakeside, one has to pay Rs 220/- per person and Rs 100/- for a camera or one may also opt to pay Rs 700/- for a car (including parking). After paying the entrance fees there are numerous things the visitor can do like horse riding, boating to various points to spot migrants (various packages ranging from Rs 3000 to Rs 9000 available), dining traditional kathiawadi thali, and of course spectating natural beauty.
The largest bird sanctuary of India is definitely a must visit to embrace what our planet has to offer with utmost comfort. It is every visitor's paradise- be it us humans or the migrants.
Image source: Ahmedabadtourism.in