Read Time:
1 Minute, 41 Second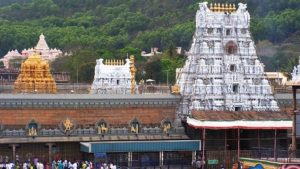 By Holiday Times Traveler
One of the richest temples in the country and a major tourist spot in South India, Lord Venkatesha Temple is popularly recognised as Tirupati Balaji. The temple is dedicated to Lord Venkateshwara, an incarnation of Lord Vishnu and its sacred shrine has been mentioned in holy scriptures such as the Garuda Purana, Brahma Purana and many others. The temple is situated at a height of 853 m above sea level and is positioned on Venkata Hill, which is one of the saptagiri (seven hills) of Tirumala Hills. These seven peaks are said to be the hoods of sheshnag (serpent god). The awe-inspiring sacred shrine of the temple is covered in pure gold and is a sight to behold.
The temple is flooded with devotees all year round and the average time taken for a devotee to reach the main idol can range from three to five hours. However, one can book online tickets to avoid the long queues and visit the main shrine devoid of hassles. The temple follows the rituals prescribed by Saint Ramanujacharya in the 11th century. Prayers start at 3 am and end with Ekanta Seva (a ritual in which a priest sings lullabies to put the lord to sleep) at 1 am. A popular practice in the temple is the donation of hair and various riches in order to please the god. The architecture of the temple building is spectacular and reflects the Dravidian style. Three entrances lead to the sanctum sanctorum – the first is called Mahadwaram. A gopuram (gateway), measuring 50 ft, is placed in front of the entrance. There are two circumambulation (parikrama) paths. While the first one comprises many-pillared halls and flagstaffs, the second has many sub-shrines and other edifices along with the main kitchen. The main shrine houses a gold-plated tower that is called Ananda Nilayam, and a temple inside the tower houses the main deity. Devotees also visit a holy pond located on the northern side of the temple.
Courtesy: Incredible India